Strategic Investment Roadmap for Suriname
Revenues from the oil industry
eyesonsuriname
Amsterdam, 2 sept 2022–
From 2022 through 2027, Suriname's state oil company, Staatsolie, plans to expend an estimated US$1.5 billion as part of its Investment Program, the bulk of which will be for participation in offshore development.
In its updated Strategic Roadmap, Staatsolie noted too that the funds will also be used to develop sustainable energy projects, as the world looks to move away from fossil fuels.
To support the planned spend, Staatsolie expects to refinance its corporate credit facility to further tap into the local, regional and international financial markets and explore commercial opportunities with international partners.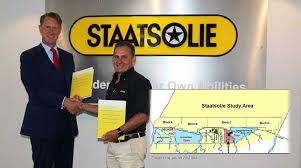 Staatsolie's strategic goals include developing offshore capacity to act as an effective partner and eventually becoming an operator; de-risking and promotion of all open offshore acreage; the monetisation of natural gas; boosting hydropower capacity and developing renewable energy opportunities.Five high-impact wells being targeted offshore Suriname this year – Staatsolie CEO | OilNOWStaatsolie's focus for 2022 includes working toward a development decision for Block 58 and participating in shallow water Blocks 5 and 8.
But it is very likely that a final investment decision will come until 2023.It also includes engaging up-, mid- and downstream gas operators to further study gas development and offtake scenarios; and helping the government identify large gas offtake, such as in the bauxite and petrochemical sectors.Staatsolie outlined that it started 2021 with 89.6 million barrels (MMbbls) of proven reserves; six were produced. Some 5.5 MMbbls were added from Staatsolie's development area which led to the total proven reserves of 89.1 MMbbls, at year-end.
The company's Upstream Director Rekha Bissumbhar said, "For Upstream, success going forward will be maintaining our six-million-barrel annual production level for years to come through both effective enhanced oil recovery [EOR] methods and the discovery of new reserves."Staatsolie has said that seismic data point to an estimated 30 billion barrels of oil equivalent offshore.
Currently, just 40% of Suriname's offshore oil blocks have been licensed, some 32 million acres, leaving over 60% untouched and ripe with potential.By the fourth quarter of 2022, Suriname will put up deepwater blocks for auction. In 2023, another auction for shallow water blocks is planned. That bid round will see some eight million acres of shallow water blocks up for auction.

eyesonsuriname