Expectations oil drilling surpassed in Guyana
Suriname trails behind
eyesonsuriname
Amsterdam, 14 maart 2023– As soon as ExxonMobil Guyana receives approval from the Environmental Protection Agency (EPA) for its 35 multi-well programme in the Stabroek Block, drilling operations for the country could reach its peak in 2025.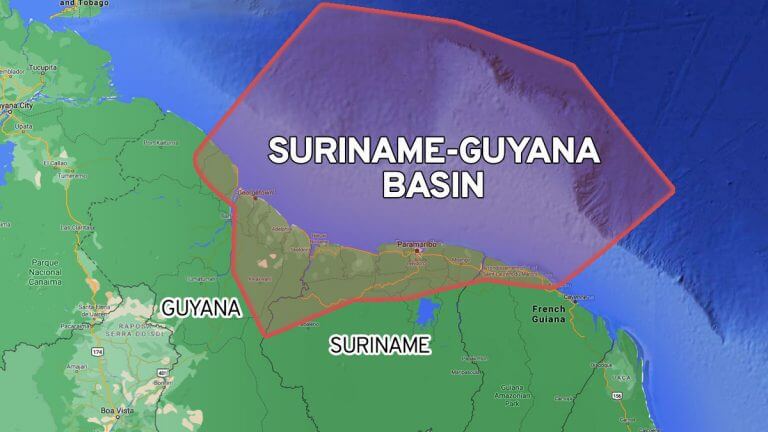 According to the Cumulative Impact Assessment (CIA) for the multi-well project, it was noted that several drill ships are anticipated to be engaged in drilling for the Yellowtail, Uaru, Whiptail, and project #7 in the Stabroek Block, as well as exploration works across the Canje and Kaieteur concessions.Exxon said it has six drill ships operating in offshore Guyana, shared among ongoing projects. It said these drill ships would maintain a constant presence through 2029, although two more drill ships could be temporarily added, thereby bringing the total to eight during the peak periods in 2025.
The giant oil company also said it currently has 22 support vessels, each making an average of one round trip weekly; eight tugs stationed at floating production, storage and offloading (FPSO) vessels, each making an average of one round trip weekly to the shorebase; and four multipurpose vessels, each making an average of one round trip monthly to the shorebase for crew changes.
Based on vessel traffic and schedules for current and planned projects, the Exxon report projected vessel traffic during the peak period in 2025 would be as high as 48 round trips weekly, or an average of seven round trips daily.
While most of the vessel traffic would use the Georgetown Harbour, Exxon said efficiencies from shared vessel trips and the use of shorebases in Trinidad and Tobago could reduce the vessel traffic impact on Guyana.In 2028, the last year for the planned 35-multiwell project, Exxon said six projects could be in production (Liza Phase 1 and 2, Payara, Yellowtail, Uaru, Whiptail, and potentially FPSO #7) within the eastern portion of the Stabroek Block. The total area within marine safety exclusion zones during this period would be 25,738 hectares, representing 0.9% of the Stabroek Block's approximately 2.7 million hectares.

eyesonsuriname