Rystad expands even further
Impressive Future Plans 
eyesonsuriname
Amsterdam, 28 januari 2023– Rystad hosted its official inauguration of the Copenhagen office on Nov. 17 2022, with attendees including founder and Chief Executive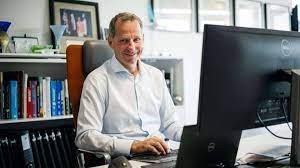 Jarand Rystad.
For many audiences and readers around the globe, Rystad Energy is an exclusive and familiar name in terms of analysis of data and energy. 
The Oslo-headquartered firm, which has since its 2004 launch been largely engaged with domestic oil and gas, has expanded massively in recent years and is now active in 25 nations with a staff count of around 550.
The latest addition to the list of countries is Denmark and our source
has visited Rystad's first employee based in Copenhagen, Joachim Kjendlie, holding the title of vice president and head of Copenhagen Office.
After 15 years working in the energy sector, most recently for Chevron, Kjendlie is now tasked with further expanding Rystad's reputation in the new host nation.
He will also continue working with existing customers as well as gaining new clientele.
"When companies are in need of a solution for something involving hydrogen, carbon capture, or something else, thoughts should fall upon Rystad.
That's clearly the ambition.
We must create brand familiarity, and we also have to provide fantastic solutions for many of the big players in the Danish market," he says.
A long-standing wishThe Swedish and Finnish market will also be tended from the Copenhagen office – but Denmark will be "a main focus", Kjendlie says.
In Norway, Rystad has been particularly engaged with oil and gas, but that will not be the case for Denmark, where the energy landscape of recent times has been undergoing major transformation toward greener technologies such as solar and, not least, wind power.
Rystad covers all forms of energy while also trying to optimally adjust itself to local markets.
"The purpose is to have local presence in what we see as a hub of the energy transition.
Such entails everything from developers and subsuppliers to, for instance, the wind and solar sectors, to energy consumers such as steel companies and the shipping industry," Kjendlie explains.
The independent energy intelligence firm deals in data, consultancy, analysis, and updates on the energy business – and Denmark has long figured on the company's radar:
"We have wanted to come to Denmark for some time, and a great deal has happened these last few years.
We see ourselves as having certain offerings able to create fine value for customers in Denmark, Sweden and Finland.
We also just opened shop in Madrid, and we're also exploring options for gaining local presence in Germany and France.
We just opened our Brussels office in August," Kjendlie comfirs.
The primary challenge is definitely to communicate clearly about how we differentiate ourselves and what we can deliver
Communication will be crucial
Rystad offers in-house research to interested customers, but sometimes the firm also sells packaged solutions based on data.
A crucial part of the Danish office's role will also be about making potential customers aware of how Rystad especially distinguishes itself among rivals, and competitors,Kjendlie notes.
"The primary challenge is definitely to communicate clearly about how we differentiate ourselves and what we can deliver.
Within certain areas, Bloomberg NEF ( The world is rapidly moving towards a lower-carbon economy. In order to keep up — and even gain an advantage — you need a partner like BloombergNEF (BNEF) that combines insights from industry, finance, and policy. Tackle complex issues with unbiased research, data and a network of innovators * eyesonsuriname.) has a much bigger name than us, but there are many who know Rystad, and we have already worked with customers in Denmark for several years," says Kjendlie, however declining to specify names:
"We're opening this office now because we sense our services being in much higher demand than previously, and we have some new solutions more sought after than ever before.
We must be on the ground and have a partnership with our customers.
"Soon scouting for local staff. Another aspect involves hiring more personnel. Starting off, only Kjendlie will be working from Denmark, but Rystad foresees recruiting a handful of employees as soon as next year – to then possibly double in staff count in 2024.
"We have skilled people within business development and sales, clientele analysts, specialists in solutions that customers need, and, of course, data analysts around the world.
And I see no reason for us not also having some local talent in Denmark working with data and sources present in Denmark, Sweden and Finland," the new office head tells us.

eyesonsuriname